Pros
Terrific uptime in testing
Outstanding customer service
Daily backups
Real-time threat detection
Choice of either Amazon Web Services or Google Cloud Platform cloud hosting
Cons
Email isn't included with hosting plans
Doesn't sell domains
WordPress is a flexible and widely-used content management system (CMS) that supports millions of websites worldwide. Consequently, numerous web hosting providers place a significant emphasis on WordPress, with some, like WP Engine, concentrating solely on it. WP Engine provides top-notch, managed hosting with outstanding uptime, WordPress-focused security, adaptable cloud-based infrastructure, daily backups, and other impressive features. It has a few minor drawbacks, such as the need to look elsewhere for email accounts and domain names.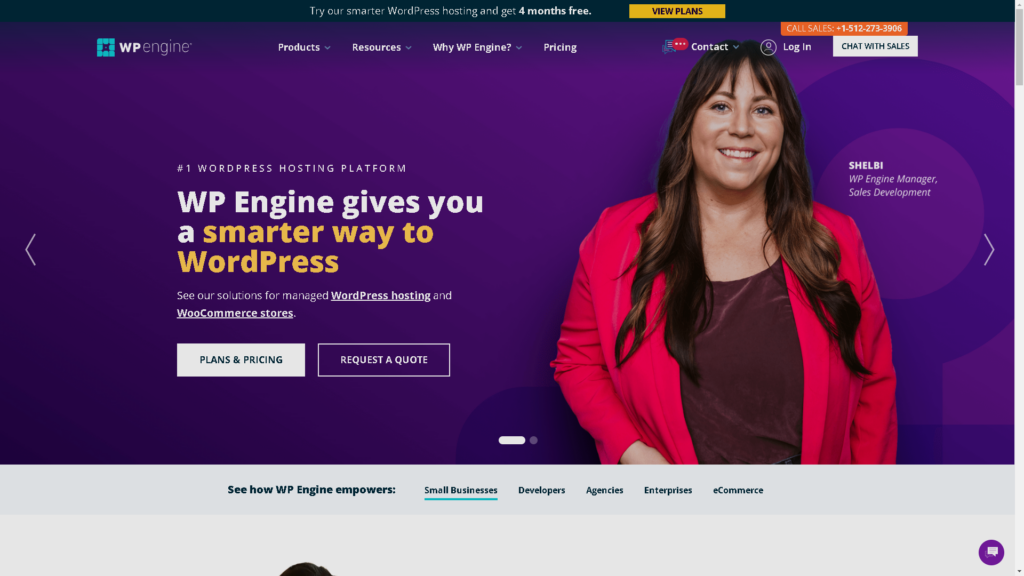 Plans and Pricing
WP Engine's four distinct pricing tiers cater solely to WordPress hosting. The basic plan, called Startup, starts at $35 per month, accommodating 25,000 monthly visits, 10GB of local storage, 50GB of bandwidth, and one website. This plan is suitable for individual sites, blogs, or personal projects.
As your website or business grows, the Growth plan is available for up to five websites, starting at $115 per month. This option increases your visitor limit to 100,000 and provides 20GB of local storage and 200GB of monthly bandwidth.
For organizations managing multiple sites or sectors, WP Engine's Scale plan is a viable option. Starting at $290 per month, it supports 15 websites, up to 400,000 monthly visitors, 30GB of storage, and 400GB of monthly bandwidth.
Additionally, WP Engine has a tailored plan for enterprise-level organizations with mission-critical websites needing dedicated environments. This plan effectively eliminates the visitor limit (described by WP Engine's website as "millions"), offering up to 1TB of storage, over 400GB of monthly bandwidth, and supporting up to 25 websites.
Features
We were both delighted and astonished to discover that WP Engine offers an incredibly feature-rich environment for constructing your WordPress site. To start, you can select from over 40,000 WordPress plugins encompassing e-commerce, security, design, and more. Furthermore, WP Engine provides over 40 handpicked templates to help you quickly begin building your website.
A valuable feature when setting up your hosting is the company's transferable sites, which simplifies migrating existing websites. To enhance security, WP Engine offers malware protection, automated SSL security, and automatic patching and updates.
We found the GeoTarget feature particularly useful, as it allows you to deliver location-specific content to visitors based on their geographical location. This capability makes it simpler to customize experiences and boost conversions. We were also impressed that WP Engine includes a Launch Readiness Assessment, evaluating your site for performance, best practices, and more to ensure optimal functionality. Lastly, we were delighted that WP Engine provides automated backups for your websites, adding an extra layer of protection in case of any issues.
Performance
WP Engine's services are known for their dependability and speed, and our evaluations confirmed that the company indeed excels in both areas. Although many of WP Engine's plans involve shared hosting—which typically impacts load times—their WordPress-centric approach and infrastructure minimize the consequences of hosting multiple sites on one server.
WP Engine's service level agreement (SLA) guarantees 99.95% uptime, and our tests indicated that they might be modest in their claim, as we did not detect any significant downtime. Regarding loading times, WP Engine's exclusive caching application ensures that your pages load rapidly. Furthermore, the included Global CDN enhances loading speeds, helping you consistently achieve high rankings on Google and other search engines.
Customer Support
During our testing, we reached out to WP Engine's support team at various times—early morning and midday—to gauge their effectiveness. We made a phone call to learn how to install new WordPress themes and used the web chat to inquire about SSL certificates with a representative. The team accurately and promptly answered both questions and several other miscellaneous queries, with minimal waiting times.
WP Engine has improved its support since our last evaluation, now providing 24/7 customer assistance to all clients via phone and chat. This enhancement is a significant step up from the previous tiered phone support, where only Growth and Scale customers had access to 24/7 phone support, while Startups could call between 7 a.m. and 7 p.m. (CST). Additionally, WP Engine offers an attractive 60-day money-back guarantee.
Conclusion
WP Engine delivers robust and valuable WordPress hosting choices, coupled with approachable and effective customer support, consistent uptime, adaptable plans, and a strong, cloud-based platform. If you're planning a significant WordPress-driven project, WP Engine is a superb web hosting service to consider. As long as you're willing to rely on a third party for domain names and email, WP Engine addresses all your WordPress-related needs. For those seeking lower-cost, non-enterprise-grade WordPress hosting that includes email and domain names, A2 is another highly recommended option for WordPress hosting.