Pros
Provides flexibility and scalability
You can make a customized plan
Global presence
Prompt customer support
Cons
Almost no information in the knowledgebase
Challenging for beginners
Established in 1995, Kamatera is a moderately-sized company that serves customers worldwide. Although it may not be as well-known as some competitors, Kamatera has consistently prioritized exceptional customer service and affordability since its founding.
Kamatera offers cloud, VPS, and dedicated hosting along with customized plans. The company, headquartered in New York, United States, is primarily recognized for its cloud services.
Kamatera is not included in the BBB directory. However, with 100 reviews on TrustPilot, the company holds a rating of 3.7 out of 5.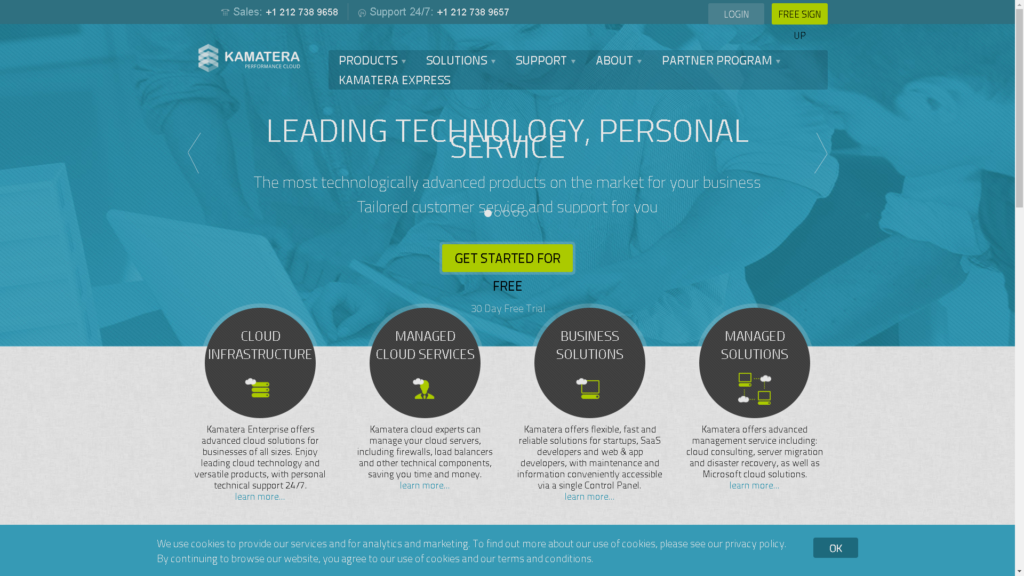 Plans and Pricing
Kamatera provides cloud, dedicated, and VPS hosting plans, primarily using an hourly pricing model. This allows users to conveniently scale resources up or down as required, accommodating fluctuating traffic patterns and workloads.
They also present more technical plans for cloud hosting, as it operates on an IaaS (Infrastructure as a Service) model – making it ideal for large enterprises and businesses.
Additionally, Kamatera offers a 30-day free trial, during which credit card details are required. Currently, they only accept credit cards as a payment method.
Cloud Hosting
| | | | | | |
| --- | --- | --- | --- | --- | --- |
| Plan name | Space | Bandwidth | Panel | Number of sites | Price |
| AVAILABILITY | 20 – 4000 GB | Unlimited | cPanel/Plesk | Unlimited | Starts at $4/m |
| GENERAL-PURPOSE | 20 – 4000 GB | Unlimited | cPanel/Plesk | Unlimited | Starts at $9/m |
| BURSTABLE | 20 – 4000 GB | Unlimited | cPanel/Plesk | Unlimited | Starts at $0.005/h |
| DEDICATED | 20 – 4000 GB | Unlimited | cPanel/Plesk | Unlimited | Starts at $19/m |
The information provided in the table serves as a rough estimate of the pricing plans for cloud hosting services. Your actual total may differ as you select resources (processor, storage, RAM, etc.) for your cloud server.
You can also choose between cPanel and Plesk, with unlimited sites and bandwidth. However, it's recommended to consult a technical support agent and share your requirements for tailored recommendations.
Tip: Cloud hosting is ideal for websites and applications, SaaS companies, and businesses that require transaction processing. This type of system enables easy scalability to meet their growing computing demands.
VPS Hosting
| | | | | | |
| --- | --- | --- | --- | --- | --- |
| Plan name | Space | Bandwidth | Panel | Number of sites | Price |
| AVAILABILITY | 20 – 4000 GB | Unlimited | cPanel/Plesk | Unlimited | Starts at $4/m |
| GENERAL-PURPOSE | 20 – 4000 GB | Unlimited | cPanel/Plesk | Unlimited | Starts at $9/m |
| BURSTABLE | 20 – 4000 GB | Unlimited | cPanel/Plesk | Unlimited | Starts at $0.005/h |
| DEDICATED | 20 – 4000 GB | Unlimited | cPanel/Plesk | Unlimited | Starts at $19/m |
Kamatera's VPS hosting offers an affordable, flexible, and comprehensive solution for diverse computing needs. There are numerous options to choose from before purchasing a plan, and prices vary accordingly. However, the starting price mentioned is based on default options.
Tip: Enterprise organizations can take advantage of space-saving and labor reduction by transitioning to a VPS hosting infrastructure. This is particularly beneficial for SaaS companies looking to adapt and scale their computing systems.
Application Hosting
Pricing information is not readily available, and you'll need to contact a technical support agent for details.
Kamatera hosting employs Windows Server and Unix OS, allowing you to deploy your applications on the cloud at a reasonable cost.
Tip: Application hosting is well-suited for VB6 runtime and database, as well as SaaS applications. You can use the .NET framework on your cloud server just as you would on any physical server.
Features
Cloud, VPS, and Application hosting
Cloud Native services
CPU & Email Monitoring
Backup Scheduling
Kamatera distinguishes itself as a provider of enterprise-grade cloud hosting services. Its flexibility, scalability, and global availability, along with complete control over instances and a variety of managed services, make it a unique and robust hosting solution, particularly for businesses with diverse workloads or those considering a transition to the cloud.
Kamatera grants users greater control over infrastructure instances, including the ability to run custom images, configure security groups, and manage user data. With managed databases and managed Kubernetes, Kamatera helps users lessen the operational burden associated with managing their infrastructure.
Performance
When searching for a web host, there are key metrics to consider in order to make the best choice. Price and customer service are important factors, but it's also crucial to consider page loading time, speed, and uptime.
Page loading time is the duration it takes for a website to fully load in a browser, often referred to as "response time" or "time to first byte" and typically measured in seconds. Ideally, web pages should load within two to three seconds.
Server speed indicates how quickly the hosting provider's servers deliver data to your website visitors, while uptime measures how consistently these servers remain online.
Kamatera offers a 99.95% uptime guarantee. To evaluate Kamatera's hosting speed and loading times, a website hosted on Kamatera was tested using GTMetrix.
The results were as follows:
The website had a reasonable response time (TTFB) of 341 ms and a fully loaded time of 9.11 seconds (experts recommend 1-2 seconds).
The domain achieved an overall performance score of 99%, which is impressive!
Customer Support
Kamatera offers 24/7 customer support through various contact methods, including phone, email, and live chat, ensuring users can access assistance promptly and conveniently.
Phone & Email
The support phone number and email address can be found on their website. Additionally, you can reach out to their sales team before purchasing a plan for any questions or concerns.
Live chat
The live chat representative responded promptly but failed to address my questions. Instead, they provided me with an email address to contact, even though my inquiries were fairly basic. When I asked about the scope of basic support, the representative disconnected from the chat, which I found quite unprofessional.
Conclusion
Upon evaluating Kamatera, I would suggest giving this hosting service a try, especially for those well-versed in cloud computing. In my view, Kamatera offers a multitude of distinctive and potent features that cater to a wide array of users.
The pay-as-you-go pricing structure is highly flexible, allowing users to pay only for the resources they consume without upfront expenses or long-term commitments. This can be particularly advantageous for users experiencing fluctuating traffic patterns or workloads. Additionally, Kamatera offers considerable scalability, which is beneficial for users who anticipate variations in their traffic or workloads.
Kamatera provides a broad array of native cloud services, including load balancing, auto-scaling, and storage. With data centers located globally, customers can select the facility nearest to their users for enhanced performance and reduced latency.
In conclusion, Kamatera's flexibility, scalability, worldwide availability, and assortment of native cloud and managed services make it an exceptional and unique hosting solution suitable for various use cases. If you're exploring hosting providers, Kamatera is definitely worth considering.