Pros
Free domain and migration
Cheap and affordable products and services
Lots of free features are included in packages (SSL installation, Supersonic CDN)
User-friendly cPanel
Comprehensive Knowledge Base
Cons
Hidden fees and higher prices on renewal
No phone support
Namecheap, a popular domain name registrar, also provides low-cost web hosting services. The plans include a free SSL certificate for the first year as well as a 30-day money-back guarantee. While small businesses may appreciate the low pricing, it comes at the cost of limited storage for its basic tiers and limited customer support. Those who aren't looking for complex setups, on the other hand, may find Namecheap sufficient.
Plans and Pricing
Namecheap Hosting offers a variety of plans with varying bonuses and features at various price points.
This hosting company provides shared hosting, WordPress hosting, reseller hosting, virtual private server hosting, and dedicated server hosting. Namecheap also offers Email Hosting, Migrations, and Transfers.
Namecheap's plans are available for one, twelve, or twenty-four months.
Stellar, Stellar Plus, and Stellar Business are the three Shared Hosting plans available from Namecheap. All shared hosting plans include unlimited bandwidth, a free website builder, domain name and privacy protection, free automatic SSL installation, free Supersonic CDN, a 30-day money-back guarantee, and free website migration in less than 24 hours. The Stellar plan costs $1.88 per month and has the least amount of storage available (20GB), while the Stellar Business plan costs $4.98 per month and has 50GB of storage.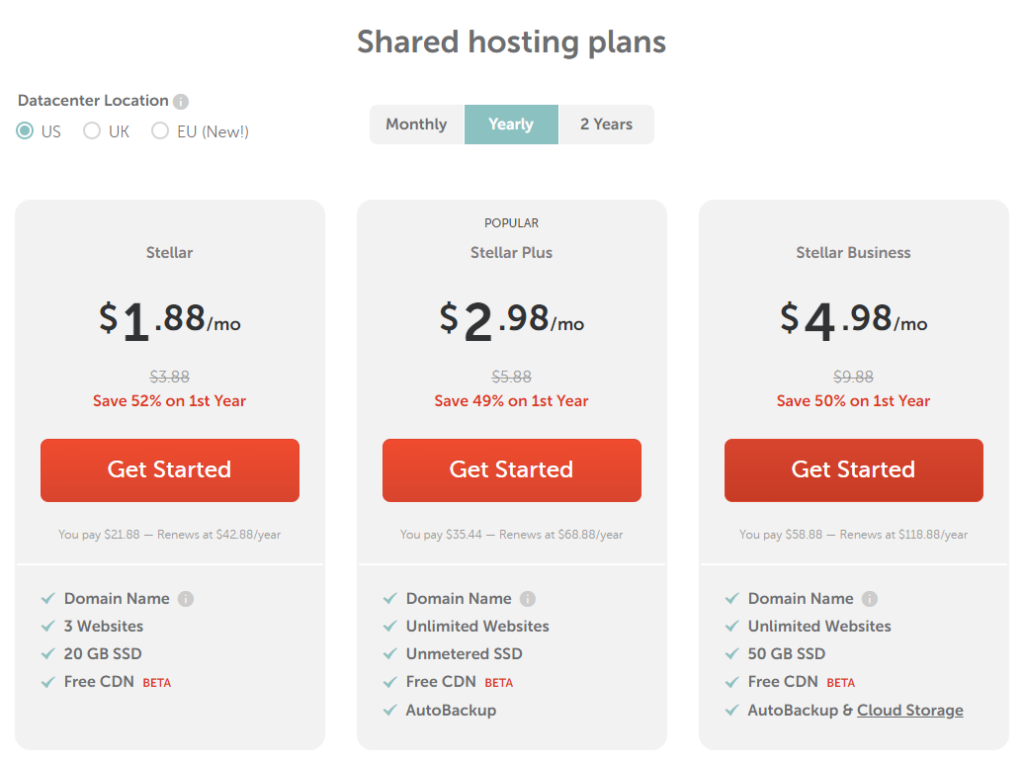 Namecheap offers three WordPress hosting plans:
Easy WP Starter – ideal for building your first site.
Easy WP Turbo – is a perfect choice if you want to grow your website.
Easy WP Supersonic– specially designed to scale up your website.
The Easy WP Starter WordPress plan is the most affordable, costing $24.88. The Easy WP Turbo costs $48.88, while the Easy WP Supersonic costs $54.88.
All WordPress Hosting plans include one WordPress website installed in less than 90 seconds and hosted on Namecheap Cloud. In addition, you will get three times the speed of traditional hosting, support for any domain name provider, seamless scalability as visitors grow, an easy-to-use Dashboard to manage WordPress websites, SFTP and database access, and easy backups and restores.
Advice: I liked that Namecheap provides a one-month free trial of WordPress hosting. You can test it out to see if it meets your requirements.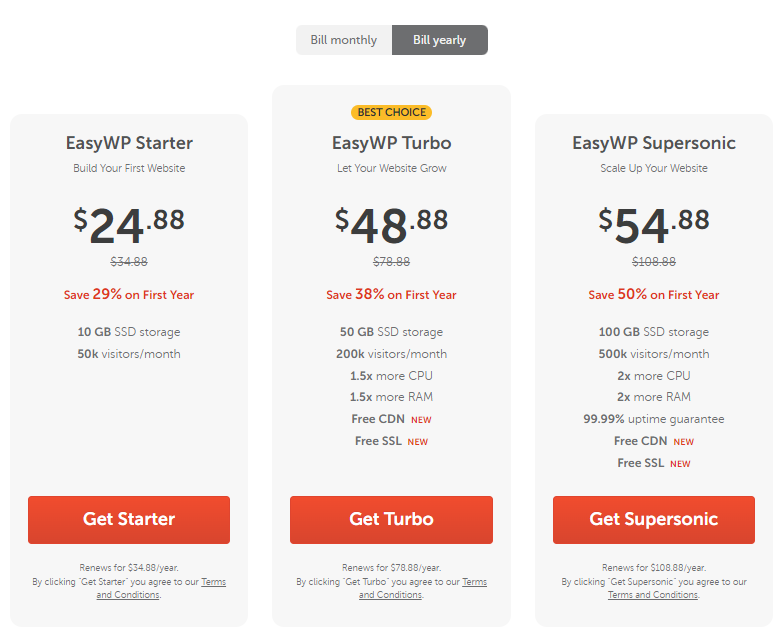 Namecheap has three Reseller Hosting plans to choose from: Nebula, Galaxy Expert, and Universe Pro. The cheapest plan is Nebula, which costs $19.88 per month and includes 25 cPanel accounts and a 30 GB SSD. The Galaxy Expert costs $39.88 per month and includes 100 cPanel accounts and a 90 GB SSD. The most expensive plan is Universe Pro for $58.88 a month, and with this plan, you get 150 cPanel accounts, 150 GB SSD, and WHMCS Starter. Unmetered bandwidth, free cPanel/WHM, and a 30-day money-back guarantee are also included in all plans.
Unfortunately, these plans are only available in the United States and the United Kingdom. In addition, if you choose to have your dedicated server in the United Kingdom, you will have to pay an additional $1 per month.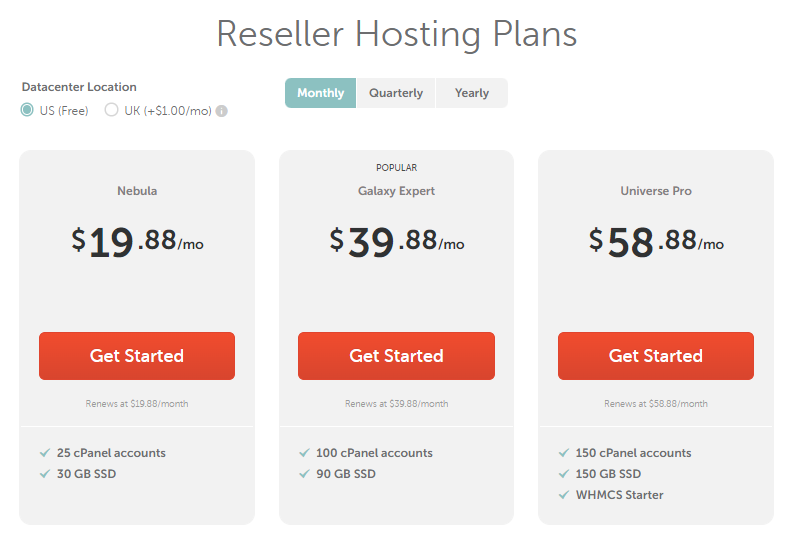 Namecheap offers two types of VPS web hosting plans Pulsar and Quasar. The plans are straightforward, dependable, and reasonably priced. Pulstar is the cheapest plan, costing $9.88 per month. This plan includes 2 CPU Cores, 2 GB RAM, a 40 GB SSD RAID 10, and 1000 GB bandwidth. The Quasar plan costs $17.88 per month. This plan includes 4 CPU Cores, 6 GB RAM, a 120 GB SSD RAID 10, and 3000 GB of bandwidth. Both VPS plans include full root access and OS selection, the highest security standards, a 30-day money-back guarantee, and complete flexibility.
You can purchase these plans on a monthly, quarterly, or yearly basis.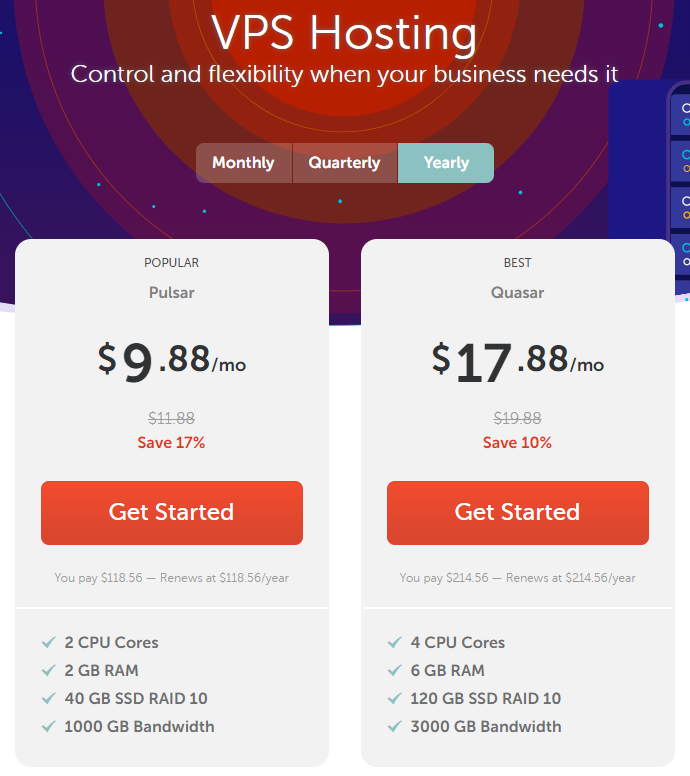 The dedicated server is the most powerful and dependable server available. Xeon E3-1230 v5, Xeon E-2236, Dual Xeon Silver 4208, Xeon E-2234, Xeon E-2236, and Dual AMD EPYC 7282 are the six Dedicated Hosting plans offered by Namecheap. The cheapest is the Xeon E3-1230 v5, which costs $47.88 per month, and the most expensive is the Dual AMD EPYC 7282, which costs $279.88 per month. These plans include same-day setup, free migration, and excellent uptime.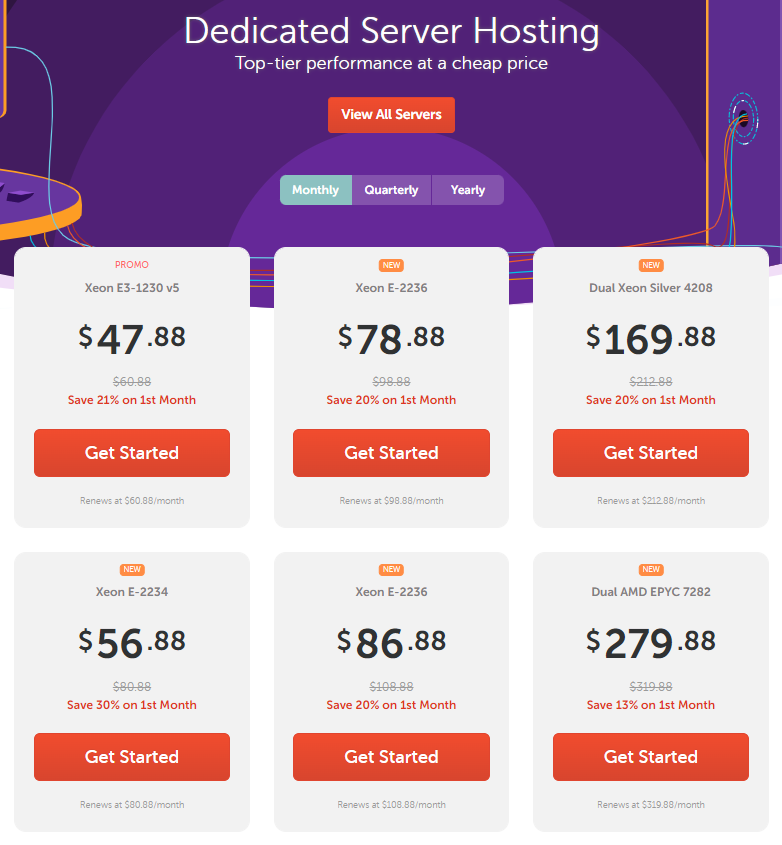 Features
Namecheap offers excellent features and benefits that can benefit all users, from beginners to experts. Let's take a look at some of the great features I discovered while researching for this review.
Global Presence
Namecheap is based in Los Angeles and has over one million users in 18 countries, with nearly thirteen million domain names registered globally.
Security
Namecheap employs cutting-edge hardware and software firewalls, as well as a comprehensive in-house security system. Included are Leech Protect, CodeGuard, Virus scanners, Hotlink prevention, Whois Domain Privacy Protection, and SSL Certificates. Leech Protect allows you to restrict the number of logins in a 24-hour period. CodeGuard offers services such as monitoring, backup, and restoration. WhoisGuard protects your name, address, email address, and phone number from hackers and spammers.
You can also use two-factor authentication, the VPN service, personal privacy, and browsing protection. You can use the TOTP – Time-based One-Time Password – feature to protect your account by using one-time passwords generated by an application such as Google Authenticator. PremiumDNS is also available from Namecheap. With this feature, your domain is transferred to a PremiumDNS platform with 100% DNS uptime and DNS-level DDoS protection. DNSSEC is a type of security technology (DNS Security Extensions). This service provider also provides free backups.
Performing Regular Backups
Backups are offered twice a week on some plans (such as the Stellar plan), but they are not guaranteed. Other plans (such as Stellar Plus and Stellar Business) include daily backups. For these plans, you can select six daily, three weekly, or eleven monthly backups.
Email
Namecheap provides professional email hosting, with three email hosting plans available. With these professional emails, you can manage your email flow like a pro and consolidate all of your existing personal and professional email accounts into a single unified Inbox. Namecheap also provides a one-month free trial for each plan.
Website Builder
Namecheap's Website Builder is a cPanel hosting-compatible drag-and-drop website builder. Without knowing any code or installing any special software, you can easily create an entire website. You can use the E-commerce tools to add a store, a shopping cart, or configure a payment processor.
Performance
Every company is unique, and you may need a tailored solution based on your services, company size, and target consumers. The ideal desired uptime and reliability for the hosting provider is 100% uptime. You may not be able to find the perfect hosting provider, but you can try to find one that comes close.
Speed – The closer the data center, the faster the server
Great speed is largely determined by how close your visitors are. Namecheap has data centers in the United States, the United Kingdom, and Europe. If your site is hosted in a US data center, your US customers will experience the fastest speeds, while those in the UK and EU may experience slower speeds.
Uptime – Decent (99.96% past 6 months)
For its hosted services, Namecheap provides a monthly uptime guarantee. If Namecheap fails to meet this guarantee, your cycle will be extended. Reseller and VPS accounts are guaranteed to be up and running 99.9% of the time, while Shared, Business, and Dedicated Server accounts are guaranteed to be up and running 100% of the time. Namecheap had an average uptime of 99.96% in our tests. As a result, Namecheap provided excellent uptime.
Loading Time – A descriptive
Despite the fact that there are faster hosting companies on the market, Namecheap provided an adequate load time.You can use servers in the United States, the United Kingdom, or the EU. If the server is closer to the data center, it will load faster. However, if you select the UK or EU, you will have to pay an additional $1, which is not great. You can also use SSD storage to provide faster loading times than regular drives.
Customer Support
Namecheap provides dependable customer support to all of its customers. You can get them by contacting a support person via live chat at any time, no matter where you are.
Begin by opening a support ticket to report a problem. On the form, you can include as much information about your problem as you want in the ticket body and attach support files.
However, Namecheap's preferred method of support is to consult its extensive knowledge base. The user-friendly information library contains numerous how-to articles and guides that walk you through Namecheap's services.
These guides are neatly organized into categories, making it simple to find what you need. Whether you're having billing or domain issues, there's a guide to help.
Conclusion
We've determined that it's one of the fastest and most dependable hosts on the market right now. We recommend it to anyone looking for a dependable, low-cost web hosting provider.
Namecheap provides excellent value by providing sufficient SSD storage, unlimited bandwidth, and low-cost hosting plans.